Description:
Great investment opportunity. Located in the City of Fresno Sphere of Influence. Near Highway 41. Properties include two Parcels, APN 329-030-14 (19.55 Ac) and APN 329-030-15 (19.21 Ac). Draft 2035 General Plan land zone designation for Regional Business Park. 2025 General Plan land zone designation for medium dense residential. Williamson Act Ag Preserve contract to expire December 2014. Mobile home is excluded from sale. Irrigated Field Crop
Description:
There isn't a location more prestigious and sought after as Van Ness Extension and this home exudes classic style. Classical French styling from the inspired architect Imelda Jeladian Golik, this home displays a completely brick facade on the exterior with concrete enforcement, paired with a grand and airy floor plan. Judiciously employed windows and the sky high ceilings in the great room allow for a bright and warm interior. This property offers a large pool with a pool house, an indoor gym, an large indoor shop, a large office, a huge kitchen with cleverly placed cabinets and huge counters for entertaining, a delightful solarium to sip your morning coffee and read the paper along with a formal living roomn for your baby grand piano. This home is more than a home, but a lifestyle. This is home, this is a gathering spot, and this is the destination to find yourself in Fresno!
Description:
Great Development Opportunity, 3 parcels in total. APNS 511-220-30(s),571-220-31S & 511-220-34s total of approx 15 acres,zoned for medium density residential.
Description:
Amazing 33.5 acres of open land. Potential residential subdivision land located in the City of Fresno Sphere of Influence. Draft 2035 Fresno City General Plan zone designation for medium dense residential. One old house, 3 beds, 1 bath built in 1948. All structures on the property to be purchased at zero value as-is. Land and house are currently Leased for row crop. Leased to expire end of 2015.
Description:
Please contact for more information
Description:
Prime Development Property! Property adjacent to the next Clovis Unified Educational Center to open in 2014. Property consists of 3 bed, 1.75 bath house built in 1991, approx. 2400 sq. ft. remote controlled front gate, shops: 30' X 60' three bay and 30' X 40' Free span Metal shop, and 2 horse stables/barns, associated paddocks, 4-horse Free Walker-Exerciser, and a Sand-D.G. riding arena, irrigated pastures, Chicken coups and pens, plus 3 hp ag well and 1.5 hp domestic well; all complete with a perimeter 6' chain link fence around the ten acres). Which at the current price per acre of $109,500.00 plus an additional $305,000.00 for the home shops, barns, carport, and pens + arena. For a total price for this (10) ten acres of $1,400,000.00. This ten acres is a separate parcel with its own domestic and ag wells!!!!!!
Description:
The units are in close proximity to stores, restaurants, public transportation...etc.
Description:
Zoned for either residential or commercial uses, this 13 unit complex is not only well maintained but located near the freeway, Fig Garden Village and backed by the beautiful Old Fig neighborhood. All units are occupied many of which are long term tenants. Each unit is 2 bedrooms, 1 bathroom and there is a well-maintained pool, covered and uncovered parking, and laundry room on-site.
5
Bedroom
4
Full
1
Half Bath
6,051
Sq. Ft. est.
Description:
Amazing price for this fabulous renovated house with top quality material. Selling it for less than $174sq/ft. You won't believe what you see once you enter the glass double doors. This half-timbered pitched-roof home with delightful architectural details will delight discriminating buyers. The grand salon has a drop-down chandelier, marble fireplace & stained glass window. Formal dining room boasts a showy wine closet & French terrace doors. Gourmet kitchen, butler pantry area, breakfast corner. Heart of the home is a two-story great room with pickled wood beam cathedral ceiling, clerestory windows, wet bar, & coal-fired hand-crafted brick fireplace/entertainment center. Upper level has game room and features 3 Romeo-&-Juliet balconies overlooking foyer, grand salon & great room. Back garden is secluded, manicured, w/pool & arbor. 4-car garage w/workshop or seasonal sports storage, storage cabinets w/creative counter overlooking yard.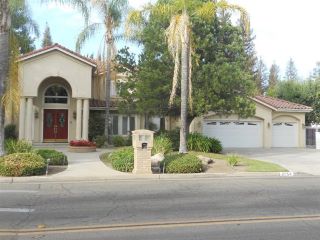 6
Bedroom
4
Full
1
Half Bath
5,115
Sq. Ft. est.
Description:
Beautiful Home just walking distance from sierra racquet/Fig Garden Golf club. has a private back yard with built in BBQ. This is a must see!
Description:
Two barns on property: 1 barn is 40' X 60' covered hay barn w/concrete floor & removable curtains. Hay barn will hold 150 tons of hay. Other barn is 20' X 70' Shavings Bunker which is covered & has a concrete floor. Holds a 53' walking floor trailer 100+ cu. yd. of shavings. Property has a 6'chain-link fence encompassing the entire property. It's currently under buried 12 pipeline flood irrigation system w/valves. Fresno Irrigation District provides seasonal water. A 5 hp. AG well/pump provides water to 20 ac. of irrigated pastures. Domestic well is powered by a stand alone solar system w/a 10,000 gal. reserve tank. Domestic well has been rated at 75 gal./min. Lots of water to do whatever you wish. Riding arena is 180' X 270' Grand Prix arena. D.G footing which is great footing for all season riding. Pasture fencing is 5 rail eltc. 2 wide tape fencing, safest fencing available. There is electric service & an established domestic water system. Plenty of room to let the kids run & play
Description:
Charming tutor, corner estate sized lot on Van Ness Extension! This home is perfect for entertaining with its sparking gated pool, large covered patio, lush landscape and numerous fruit trees. Plenty of room in this 4,486 SF home with 4 generous sized bedrooms, 3 baths, powder room, formal living room, formal dining room and din. There is a large game room with loft and wet bar. The master suite has 3 closets, sliding door to the pool, master bath has his and hers water closets and vanities, the roman tub has a view of a private garden and separate shower. The home has been updated with triple pane windows and for your safety there's a security gate and alarm system